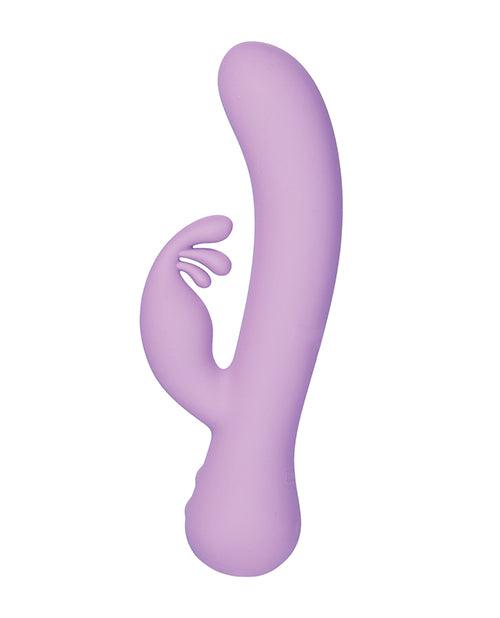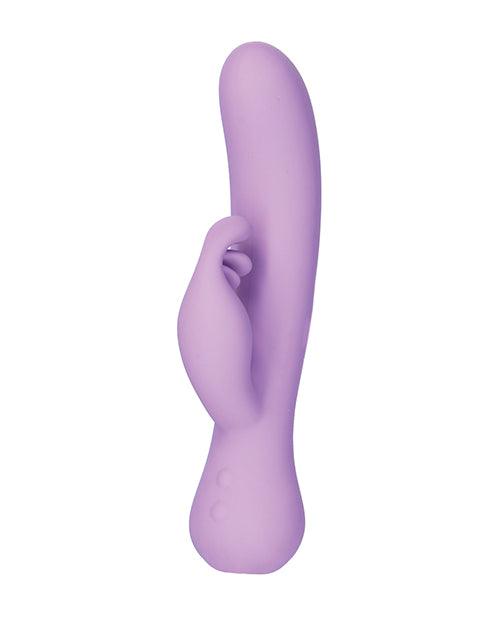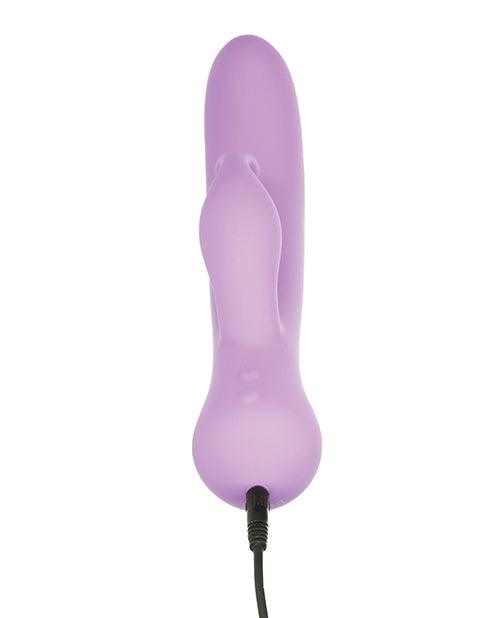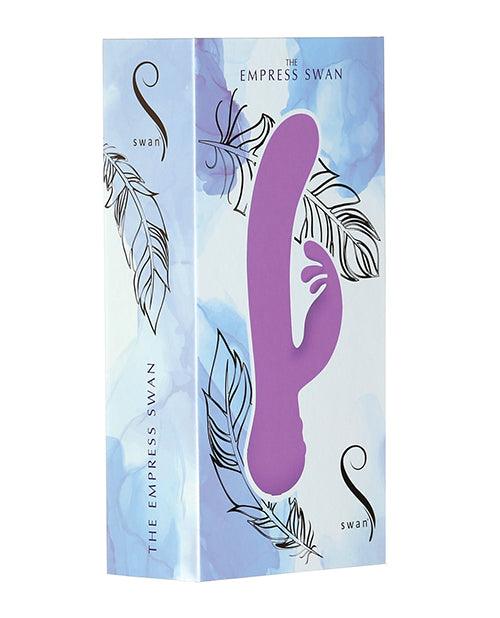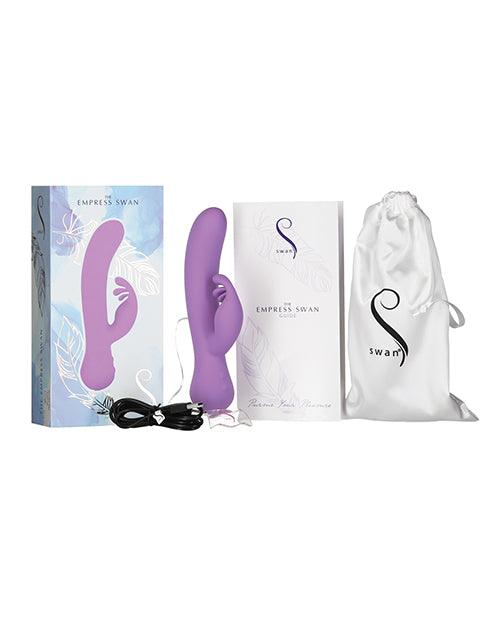 The Empress Swan Vibrator
Reign Supreme in Pleasure and Power
Embrace Empress-level Elegance and Opulence
Indulge in the luxurious world of pleasure with The Empress Swan Vibrator. This exquisite masterpiece is designed to elevate your sensual experiences to new heights. With its regal aesthetics and refined craftsmanship, it exudes an air of elegance and opulence that befits a true queen. Allow yourself to be captivated by its allure and embark on a journey of pleasure fit for royalty.
Experience Divine Sensations Fit for an Empress
Submit to the allure of The Empress Swan Vibrator as it bestows upon you divine sensations. With its powerful and whisper-quiet vibrations, this majestic toy is crafted to deliver pleasure that will leave you breathless. Let its carefully contoured shape and velvety-smooth texture caress your body, unlocking the secrets of pure ecstasy. Surrender to the pleasure and immerse yourself in a realm where every touch reigns supreme.
Unleash Your Inner Empress with Unparalleled Control
Command your pleasure with the unwavering control offered by The Empress Swan Vibrator. Its intuitive controls and customizable settings empower you to tailor each experience to your desires. With precise intensity levels and pattern variations, you hold the key to unlocking pleasure in its most exquisite forms. Embrace your inner empress and revel in the blissful realm of self-discovery and sensual empowerment.
Luxuriate in Unmatched Sensuality and Innovation
Enchant with the Majesty of Exquisite Design
Prepare to be enchanted by The Empress Swan Vibrator's majestic design. Inspired by the grace and beauty of a swan, its elegant silhouette and smooth lines invoke a sense of timeless allure. Crafted with premium, body-safe materials, this pleasure gem exemplifies sophistication and pays homage to the exquisite beauty that lies within you.
Elevate Your Pleasure with Revolutionary Technology
Experience pleasure like never before with The Empress Swan Vibrator's revolutionary technology. This masterpiece of innovation features advanced vibration patterns and modes that cater to your every desire. From gentle pulsations to intense waves of pleasure, it adapts to your mood and cravings, ensuring a truly personalized journey of sensual exploration. Immerse yourself in the cutting-edge technology and let it unlock new dimensions of pleasure.
Rechargeable Royalty: Indulge in Limitless Pleasure
Bid farewell to the inconvenience of disposable batteries. The Empress Swan Vibrator reigns supreme with its rechargeable functionality, ensuring that pleasure is always within reach. With a long-lasting battery life, this regal companion accompanies you on countless adventures of bliss, eliminating interruptions and allowing you to luxuriate in pleasure without boundaries.
Embody Empowerment and Unleash Your Sensual Dominion
Embrace Your Sensual Authority and Unleash Your Desires
The Empress Swan Vibrator is more than a pleasure toy; it is a symbol of empowerment and sensual authority. Embrace your role as a commanding empress as you prioritize your pleasure and indulge in the exploration of your desires. Let this elegant vibrator be a reminder that you are worthy of experiencing pleasure without limits, empowering you to reign over your own satisfaction.
Radiate Confidence and Grace in the Bedroom
Embody confidence and grace as you introduce The Empress Swan Vibrator into your intimate moments. Its exquisite design and luxurious features transform your bedroom into a sanctuary of sensuality and self-expression. Let its powerful vibrations and impeccable craftsmanship enhance your confidence, as you radiate a magnetic aura of pleasure and reign supreme in the art of seduction.
Rule Your Kingdom of Pleasure with Unwavering Poise
Seize control of your pleasure and rule your kingdom of pleasure with unwavering poise. The Empress Swan Vibrator empowers you to explore your fantasies, embrace your sensuality, and assert your desires with confidence. Whether enjoyed alone or with a partner, it becomes your royal scepter, guiding you toward realms of ecstasy where pleasure becomes your birthright.
Color:  Lavendar

Free Standard Shipping (3-7 business days) on all orders above $75.
$5.99 shipping (3-7 business days) for all orders under $75.
$14.99 Express Shipping (2-3 business days) available on all orders. (Free for orders over $200)
Shipping costs to Canada will be calculated at checkout.
Your Privacy is our number one priority - all packages ship discreetly with no mention of the sender.
Returns & Exchanges
At RealVibes.co, we value your business and strive to make your online shopping experience as smooth as possible. We understand that choosing the right products can be a challenge, but rest assured, we're here to assist you every step of the way.
Product Selection Assistance Each product on our website is accompanied by a detailed description to help you make an informed decision. Our dedicated support team is also available to address any questions or concerns you may have. Feel free to reach out to us for personalized assistance.
Returns Policy
Change of Mind: Due to health and hygiene reasons, we cannot offer exchanges or refunds for a change of mind on any adult products. We kindly request that you carefully consider your choices before making a purchase. If you have any doubts or require assistance, please don't hesitate to contact us. Our team is ready to help you select the right product for your needs.
Defective Products: In the unlikely event that a product is defective, please notify us within 30 days of the delivery date of your order. We will promptly replace the defective item to ensure your satisfaction.
Clothing Fit: If any clothing item does not fit as expected, please notify us within 5 days of the delivery date of your order. We'll gladly exchange it for another size at no additional charge, ensuring you find the perfect fit.
Return Conditions
To ensure a smooth return process, please adhere to the following conditions:
All items must be returned with their original packaging, labels, and hygiene seals intact. Please ensure that the product is in its original, unused condition.
Please note that once a package is opened, we are unable to accept returns due to health and safety regulations.
Initiating a Return/Exchange
To initiate a return or exchange, please email our support team at support@realvibes.co and provide the following information:
Order number
Full Name
Email Address
Details of the product(s) you would like to return and the reason for the return
Our team will guide you through the process and ensure a prompt resolution to your request.