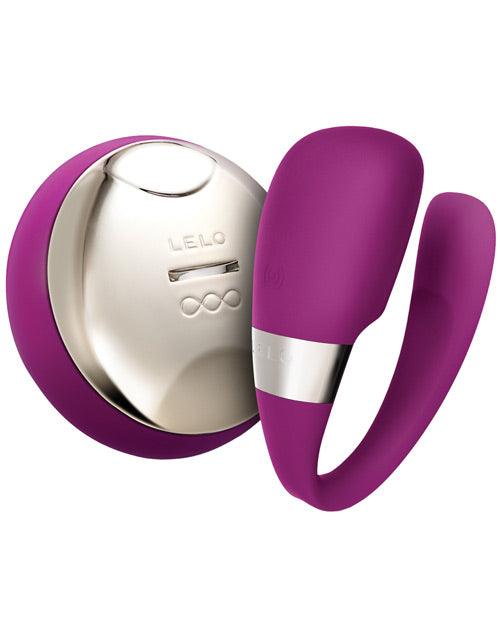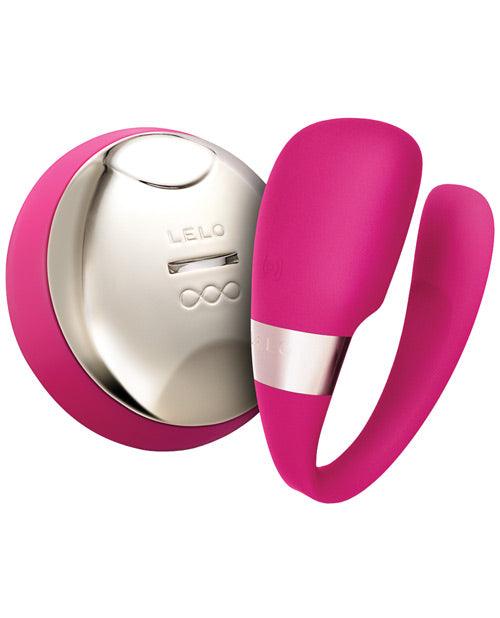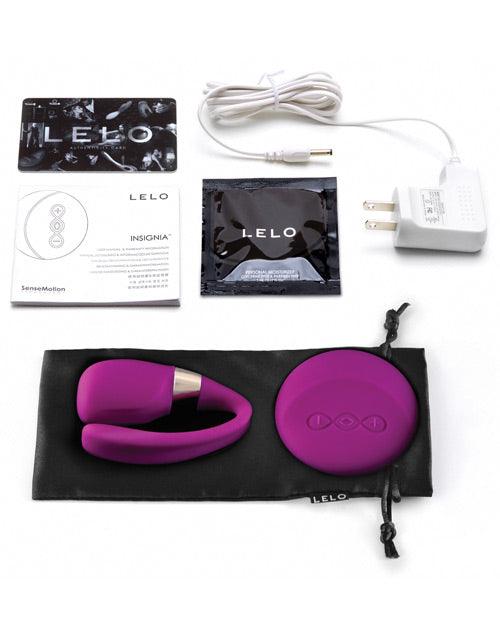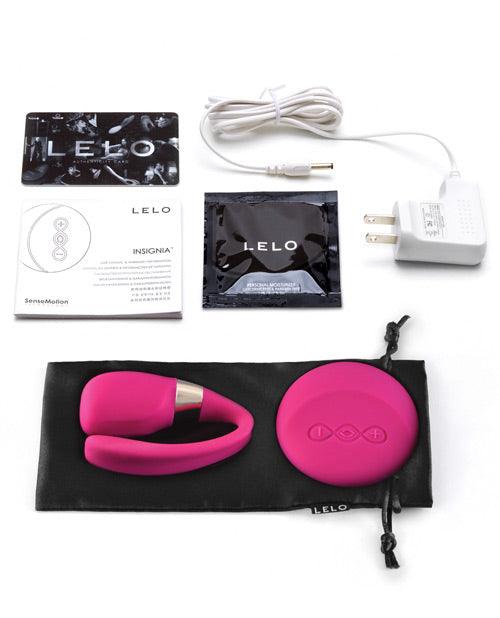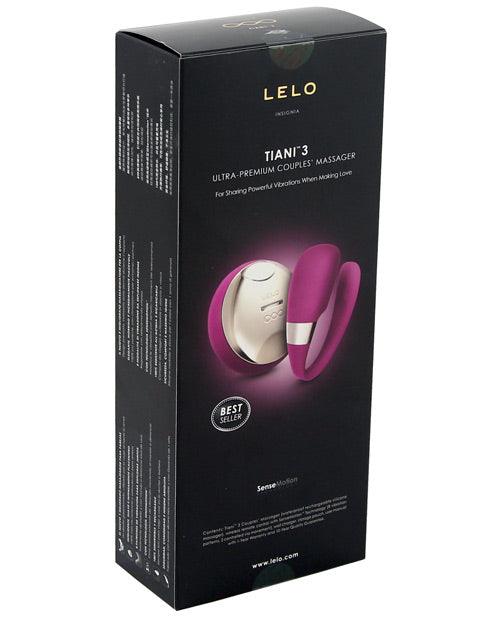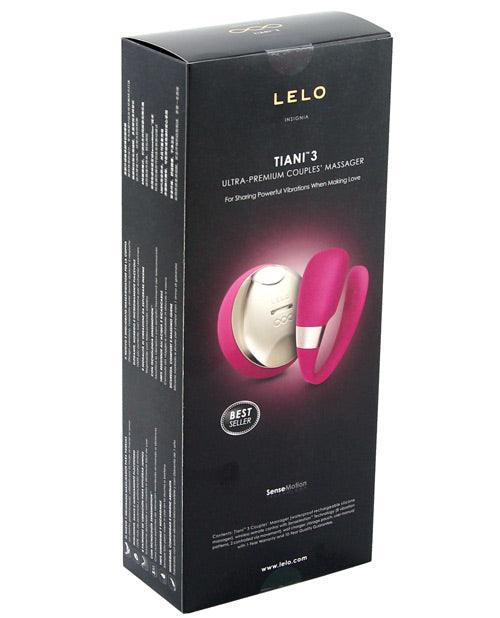 What is the Lelo Tiani 3?
Calling all adventurous couples out there! The Lelo Tiani 3 is the latest edition of Lelo's fantastically designed vibrator for couples.
With two insertable heads, the Lelo Tiani 3 is designed specifically for maximum pleasure for both you and your partner. While in use, both you and your partner will feel the powerful vibrations of the Lelo Tiani, ensuring both increased intimacy and empowered orgasms like never before!
Crafted with luxurious playtime in mind, the Lelo is a sleek and beautiful vibrator that will incredibly up your sex toy game. Ditch those rough, plastic toys for the LeloTiani 3 to add some mature class to your bedside drawer!
How Does the Lelo Tiani 3 Work?
For those worried about how to use a couple's vibrator – have no fear. The LeloTiani 3 Couple's Vibratoris one of the most easy to use couple's sex toys out there. Here are some simple steps about how to use to the LeloTiani 3 with your partner:
1) Insert the smaller tip inside the vagina

2) Place the larger tip facing the clitoris

3) Use the remote control to change vibration settings

4) Have your partner insert themselves in the vagina

5) Experience vibrations to both the vagina, penis, and clitoris all at once!
Want to give it a go, solo? Go ahead! Just follow steps one through three for your next alone time pleasure session. That's right – the Lelo Tiani 3 is incredibly versatile, and can be used with a partner or all by yourself!
And if you want to add lube to the mix for an even more slippery, sensual experience, go ahead! The Tiani is one hundred percent waterproof. Before and after play, be sure to gently wash the Tiani with a clean washcloth, warm water, and soap for your own personal hygiene and safety.
What Does the Lelo Tiani 3 Look Like?
Even better, the Tiani is simply a dream. Here is a breakdown of the couple's vibrator's luxurious aesthetics:
Smooth, silky silicone material

Upscale colors including purple, pink, and black

Shiny hardware banded base

Three inches in size to flawlessly fit in your grasp
With all of these astoundingly beautiful qualities, the Lelo Tiani 3 is quite simply a state of the art innovation. Who knew a couple's vibrator could look so flawless? Ultimately, the Lelo hits chic minimalism right on the top of the head with this Tiani display.
Who Can Use the Lelo Tiani 3?
Do not be overwhelmed by the partner element of this sex toy, because it is fit for anyone and everyone. Regardless of what is on your sex toy CV, the Lelo Tiani 3 is perfect for those new to the vibrator market as well as those couple's vibrator veterans out there.
Additionally, whether you have one, two, or zero sexual partners in your life, the Tiani 3 will fit your lifestyle. Though the Tiani 3 is designed for coupled play, it is also fit for solo time as well. So for those in the market for a sex toy that will deliver in both alone time and coupled play, the Tiani 3 is right for you. Essentially, the Lelo Tiani 3 Vibrator is a 2-in-1 product – save cash and invest in this multi-use vibrator!
Key Features – Lelo Tiani 3
The Lelo Tiani 3 Vibrator is also bursting with notable features that make it stand apart from other couple's vibrators (and vibrators in general):
Quality material crafted with FDA approved silicone for your safety

Light as a feather weighing just under two ounces

Two hour playtime with two hours of USB charging time

Simple user experience with a single button

Wireless remote for hands-free playtime and customized vibrations

Fifty decibel maximum noise sounding similar to a light rainfall
As an added bonus, the vibrator also comes with a sleek satin bag for storage. So, whether your Tiani is traveling or staying in your dresser drawer, it can be discreetly stored in a sleek fashion.
Also, we recommend cleaning your Tiani before and after play, even if it is stored in the satin bag. Be sure to regularly clean the storage bag, as well!
With all these key features in mind, it is without a doubt that the Lelo Tiani Couple's Vibrator is the ideal sex toy for all.
Shop Best Selling Lelo Tiani 3 Couple's Vibrator at Realvibes!
So, are you two ready to try it out? Shop the Lelo Tiani 3 vibrator today at Realvibes, the top rated online sex toy shop for high quality products! And there is no need to worry about the price – here at Realvibes.co, we allow folks to pay in interest-free installments. You can select this option at checkout. If you wish to purchase the product's full amount in one go, you can select that option as well!
If you have any questions about the Tiani 3, Lelo products, or any other sex toy on our site, please Contact Us here. We are here to help guide your vibrator shopping experience as best we can! Because at Realvibes.co, our customers' satisfaction is our number one priority.
Free Standard Shipping (3-7 business days) on all orders above $75.
$5.99 shipping (3-7 business days) for all orders under $75.
$14.99 Express Shipping (2-3 business days) available on all orders. (Free for orders over $200)
Shipping costs to Canada will be calculated at checkout.
Your Privacy is our number one priority - all packages ship discreetly with no mention of the sender.
Returns & Exchanges
At RealVibes.co, we value your business and strive to make your online shopping experience as smooth as possible. We understand that choosing the right products can be a challenge, but rest assured, we're here to assist you every step of the way.
Product Selection Assistance Each product on our website is accompanied by a detailed description to help you make an informed decision. Our dedicated support team is also available to address any questions or concerns you may have. Feel free to reach out to us for personalized assistance.
Returns Policy
Change of Mind: Due to health and hygiene reasons, we cannot offer exchanges or refunds for a change of mind on any adult products. We kindly request that you carefully consider your choices before making a purchase. If you have any doubts or require assistance, please don't hesitate to contact us. Our team is ready to help you select the right product for your needs.
Defective Products: In the unlikely event that a product is defective, please notify us within 30 days of the delivery date of your order. We will promptly replace the defective item to ensure your satisfaction.
Clothing Fit: If any clothing item does not fit as expected, please notify us within 5 days of the delivery date of your order. We'll gladly exchange it for another size at no additional charge, ensuring you find the perfect fit.
Return Conditions
To ensure a smooth return process, please adhere to the following conditions:
All items must be returned with their original packaging, labels, and hygiene seals intact. Please ensure that the product is in its original, unused condition.
Please note that once a package is opened, we are unable to accept returns due to health and safety regulations.
Initiating a Return/Exchange
To initiate a return or exchange, please email our support team at support@realvibes.co and provide the following information:
Order number
Full Name
Email Address
Details of the product(s) you would like to return and the reason for the return
Our team will guide you through the process and ensure a prompt resolution to your request.