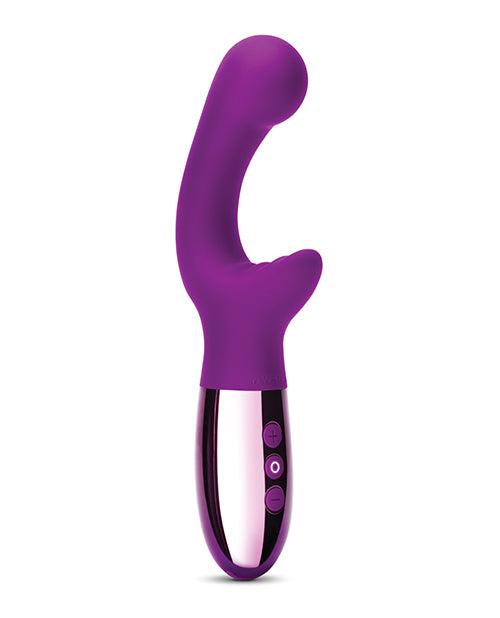 Le Wand Xo Double Motor Wave Rechargeable Vibrator
Le Wand Xo Double Motor Wave Rechargeable Vibrator
Unleash Waves of Sensual Pleasure
Experience Unmatched Pleasure with Dual Motors
Indulge in the ultimate pleasure experience with the Le Wand Xo Double Motor Wave Rechargeable Vibrator. This exquisite pleasure tool features dual motors strategically placed to provide targeted stimulation and send waves of ecstasy throughout your body. Surrender to the enchanting sensations as you explore the limitless possibilities of pleasure and unlock new dimensions of satisfaction.
Revolutionary Wave Motion Technology
Immerse yourself in a world of innovative pleasure with the Le Wand Xo Double Motor Wave Vibrator. Its wave motion technology mimics the rhythm and intensity of a lover's touch, delivering an unparalleled experience of pulsating pleasure. Let the sensual undulations and waves of stimulation transport you to the peak of bliss, creating a symphony of pleasure that resonates deep within your being.
Customizable Vibrations for Personalized Pleasure
Tailor your pleasure to perfection with the Le Wand Xo Double Motor Wave Vibrator. With multiple vibration patterns, intensities, and wave speeds to choose from, you have the power to create a customized experience that suits your desires. Explore gentle caresses or unleash powerful pulsations—it's all within your control. Amplify your pleasure and reach new heights of satisfaction with this versatile and luxurious vibrator.
Embrace Intimate Exploration
Luxurious Design for Unforgettable Sensations
Indulge in opulent pleasure with the Le Wand Xo Double Motor Wave Vibrator. Its sleek and sophisticated design not only exudes elegance but also enhances your pleasure experience. The velvety-smooth silicone material glides effortlessly over your skin, while the ergonomic shape ensures a comfortable grip and precise control. Immerse yourself in the world of luxury and let this exquisite vibrator elevate your intimate moments.
Versatile Pleasure for Solo or Partnered Play
Whether you prefer solo adventures or shared pleasure, the Le Wand Xo Double Motor Wave Vibrator is your perfect companion. Explore the depths of your desires during solo play or invite your partner to join in the sensual journey. With its intuitive controls and ergonomic design, this vibrator enables seamless transitions between solo and partnered play, making every experience deeply satisfying and unforgettable.
Rechargeable and Travel-Friendly
Experience pleasure without boundaries with the Le Wand Xo Double Motor Wave Rechargeable Vibrator. Its rechargeable design eliminates the need for batteries, ensuring consistent and powerful vibrations whenever you desire. The travel-friendly size and discreet packaging make it the ideal companion for pleasure on the go. Whether you're traveling to a romantic getaway or simply exploring your desires in a different setting, this vibrator is ready to accompany you on your sensual adventures.
Elevate Your Sensual Well-being
Empowerment through Self-Exploration
Embrace your sensual well-being and empower yourself through self-exploration with the Le Wand Xo Double Motor Wave Vibrator. Allow your desires to unfold as you delve into the realms of pleasure and self-discovery. Discover new erogenous zones, stimulate your senses, and enhance your overall sexual well-being. Let this luxurious vibrator be your gateway to unlocking a heightened state of pleasure and self-fulfillment.
Unleash the Power of Intimacy
Intimacy is a powerful force that deepens connections and ignites passion. The Le Wand Xo Double Motor Wave Vibrator enhances the power of intimacy by introducing exhilarating sensations into your intimate moments. Use this vibrator to explore new sensations with your partner, build trust, and foster a stronger bond. Embrace the joy of shared pleasure and embark on an intimate journey that will leave you both craving for more.
One Year Warranty.

Colors:  Rose Gold, Cherry, Black
Free Standard Shipping (3-7 business days) on all orders above $75.
$5.99 shipping (3-7 business days) for all orders under $75.
$14.99 Express Shipping (2-3 business days) available on all orders. (Free for orders over $200)
Shipping costs to Canada will be calculated at checkout.
Your Privacy is our number one priority - all packages ship discreetly with no mention of the sender.
Returns & Exchanges
At RealVibes.co, we value your business and strive to make your online shopping experience as smooth as possible. We understand that choosing the right products can be a challenge, but rest assured, we're here to assist you every step of the way.
Product Selection Assistance Each product on our website is accompanied by a detailed description to help you make an informed decision. Our dedicated support team is also available to address any questions or concerns you may have. Feel free to reach out to us for personalized assistance.
Returns Policy
Change of Mind: Due to health and hygiene reasons, we cannot offer exchanges or refunds for a change of mind on any adult products. We kindly request that you carefully consider your choices before making a purchase. If you have any doubts or require assistance, please don't hesitate to contact us. Our team is ready to help you select the right product for your needs.
Defective Products: In the unlikely event that a product is defective, please notify us within 30 days of the delivery date of your order. We will promptly replace the defective item to ensure your satisfaction.
Clothing Fit: If any clothing item does not fit as expected, please notify us within 5 days of the delivery date of your order. We'll gladly exchange it for another size at no additional charge, ensuring you find the perfect fit.
Return Conditions
To ensure a smooth return process, please adhere to the following conditions:
All items must be returned with their original packaging, labels, and hygiene seals intact. Please ensure that the product is in its original, unused condition.
Please note that once a package is opened, we are unable to accept returns due to health and safety regulations.
Initiating a Return/Exchange
To initiate a return or exchange, please email our support team at support@realvibes.co and provide the following information:
Order number
Full Name
Email Address
Details of the product(s) you would like to return and the reason for the return
Our team will guide you through the process and ensure a prompt resolution to your request.