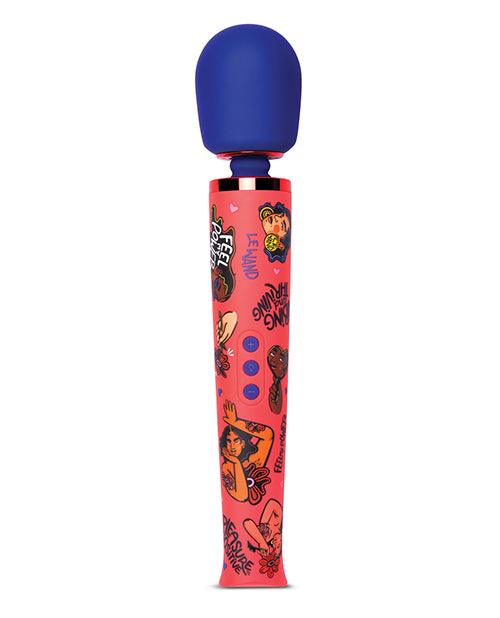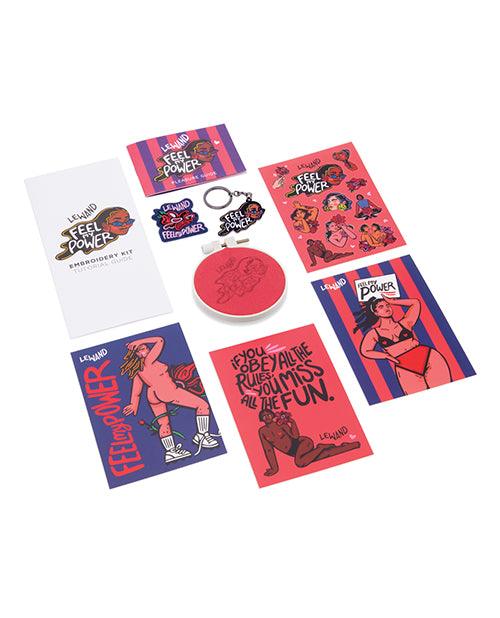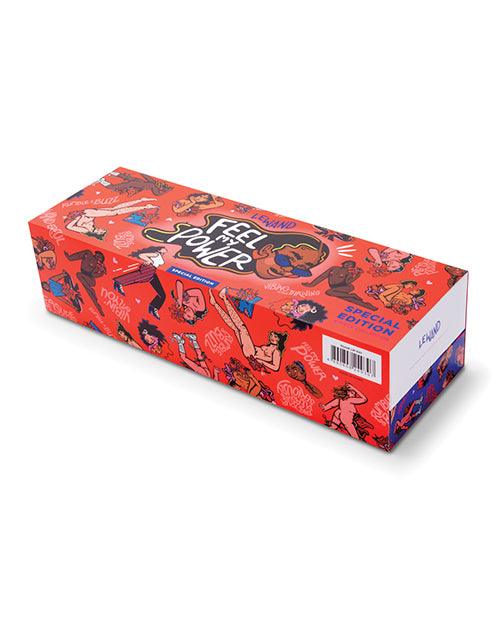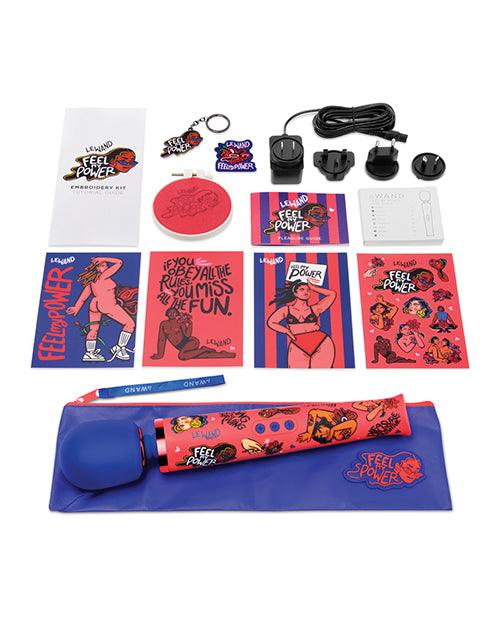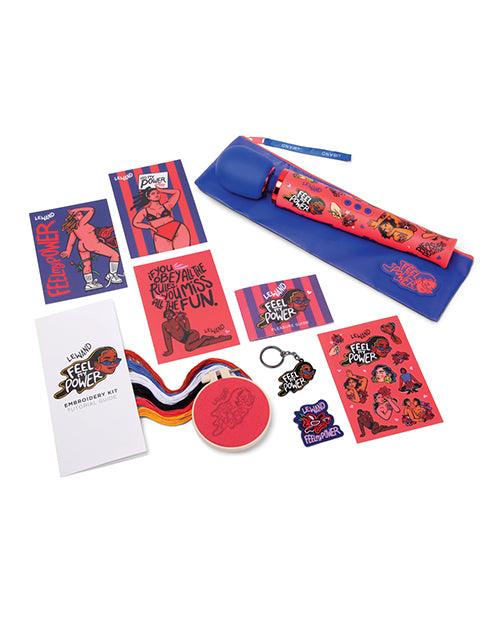 Le Wand Feel My Power 2022 Kelly Malka Special Edition Wand Massager
Le Wand Feel My Power 2022 Kelly Malka Special Edition Wand Massager
Unleash Your Sensual Power
Feel the Power of Intense Pleasure
Experience the ultimate in pleasure with the Le Wand Feel My Power 2022 Kelly Malka Special Edition Wand Massager. Designed to deliver unmatched satisfaction, this powerful wand massager will take your pleasure to new heights. Feel the intensity as the deep, rumbling vibrations awaken every inch of your body, melting away tension and leaving you in a state of pure bliss. Prepare to unleash your sensual power like never before.
Customizable Pleasure for Personalized Satisfaction
With multiple vibration speeds and patterns to choose from, the Le Wand Feel My Power wand massager allows you to customize your experience to suit your desires. Whether you prefer gentle caresses or powerful pulsations, this special edition wand massager has the versatility to deliver exactly what you crave. Take control of your pleasure and explore the endless possibilities that await.
Luxurious Design for Unforgettable Moments
Indulge in pure luxury with the Le Wand Feel My Power Special Edition Wand Massager. Featuring a sleek and sophisticated design, this massager not only provides incredible pleasure but also exudes elegance. The smooth silicone head glides effortlessly over your skin, while the ergonomic handle ensures a comfortable grip and easy maneuverability. Treat yourself to a truly indulgent experience that will leave you longing for more.
Kelly Malka's Sensual Journey
A Collaboration of Sensual Visionaries
The Le Wand Feel My Power 2022 Kelly Malka Special Edition Wand Massager is the result of a collaboration between Le Wand and Kelly Malka, a renowned sensual visionary. Inspired by her own sensual journey, Kelly Malka brings her unique perspective to this special edition wand massager. Explore the depths of pleasure and embark on a sensual adventure guided by the expertise of Kelly Malka.
Elevate Your Self-Care Rituals
Integrate the Le Wand Feel My Power wand massager into your self-care rituals and elevate your well-being. Take the time to prioritize yourself and indulge in moments of pure pleasure. Release tension, relieve stress, and discover a renewed sense of vitality as the powerful vibrations of this massager melt away the burdens of daily life. Let self-care become a transformative experience that rejuvenates both your body and soul.
Collectible Special Edition for Discerning Pleasure Enthusiasts
The Le Wand Feel My Power 2022 Kelly Malka Special Edition Wand Massager is not only a powerful pleasure tool but also a collectible item for discerning pleasure enthusiasts. With its exclusive design and limited availability, this special edition wand massager is a true gem to add to your collection. Experience pleasure with a touch of exclusivity and immerse yourself in the world of luxury and desire.
Unleash Your Sensual Potential
Empowerment through Pleasure
Embrace the power of pleasure and unleash your sensual potential with the Le Wand Feel My Power wand massager. Allow yourself to fully surrender to the exquisite sensations it provides, awakening your desires and empowering your sensual journey. Discover the depths of your pleasure, explore new erogenous zones, and unlock a world of fulfillment. This wand massager is your tool for self-discovery and self-empowerment.
Versatile Pleasure for Every Mood
The Le Wand Feel My Power wand massager offers versatile pleasure for every mood and occasion. Whether you seek soothing relaxation or intense stimulation, this massager has the versatility to cater to your needs. Use it for sensual massages, intimate moments, or as a tension-relieving tool. With its powerful performance and customizable settings, it adapts to your desires and elevates your pleasure in any situation.
Rechargeable and Travel-Friendly
Experience pleasure without limits with the Le Wand Feel My Power wand massager. This special edition massager is rechargeable, ensuring that you never run out of power at the most crucial moments. The travel-friendly design allows you to take your pleasure on the go, wherever your adventures may lead you. Stay in touch with your sensual power no matter where you are, and never compromise on the pleasure you deserve.
One Year Warranty.

Free Standard Shipping (3-7 business days) on all orders above $75.
$5.99 shipping (3-7 business days) for all orders under $75.
$14.99 Express Shipping (2-3 business days) available on all orders. (Free for orders over $200)
Shipping costs to Canada will be calculated at checkout.
Your Privacy is our number one priority - all packages ship discreetly with no mention of the sender.
Returns & Exchanges
At RealVibes.co, we value your business and strive to make your online shopping experience as smooth as possible. We understand that choosing the right products can be a challenge, but rest assured, we're here to assist you every step of the way.
Product Selection Assistance Each product on our website is accompanied by a detailed description to help you make an informed decision. Our dedicated support team is also available to address any questions or concerns you may have. Feel free to reach out to us for personalized assistance.
Returns Policy
Change of Mind: Due to health and hygiene reasons, we cannot offer exchanges or refunds for a change of mind on any adult products. We kindly request that you carefully consider your choices before making a purchase. If you have any doubts or require assistance, please don't hesitate to contact us. Our team is ready to help you select the right product for your needs.
Defective Products: In the unlikely event that a product is defective, please notify us within 30 days of the delivery date of your order. We will promptly replace the defective item to ensure your satisfaction.
Clothing Fit: If any clothing item does not fit as expected, please notify us within 5 days of the delivery date of your order. We'll gladly exchange it for another size at no additional charge, ensuring you find the perfect fit.
Return Conditions
To ensure a smooth return process, please adhere to the following conditions:
All items must be returned with their original packaging, labels, and hygiene seals intact. Please ensure that the product is in its original, unused condition.
Please note that once a package is opened, we are unable to accept returns due to health and safety regulations.
Initiating a Return/Exchange
To initiate a return or exchange, please email our support team at support@realvibes.co and provide the following information:
Order number
Full Name
Email Address
Details of the product(s) you would like to return and the reason for the return
Our team will guide you through the process and ensure a prompt resolution to your request.