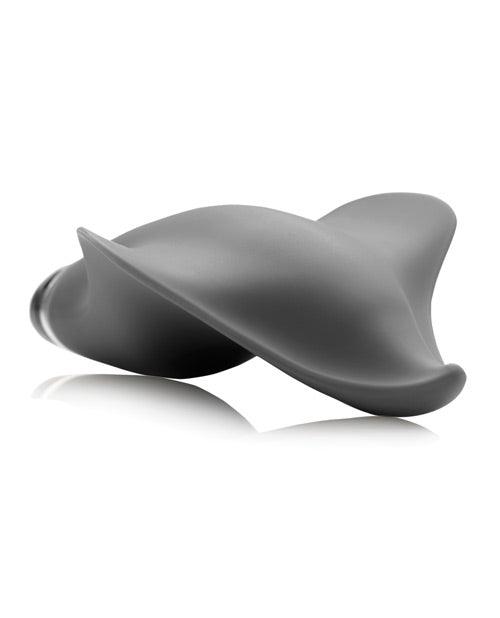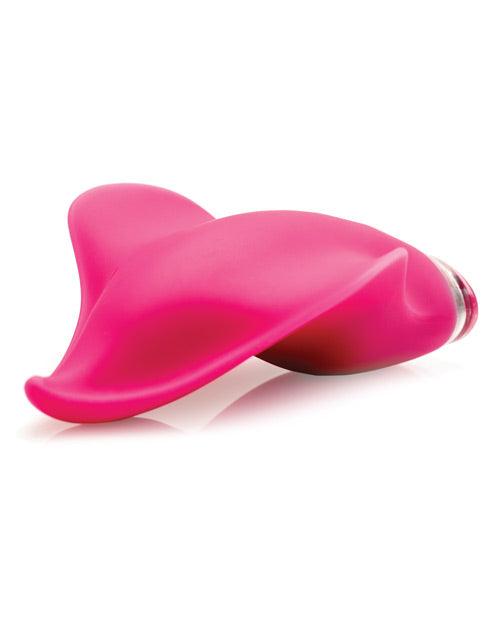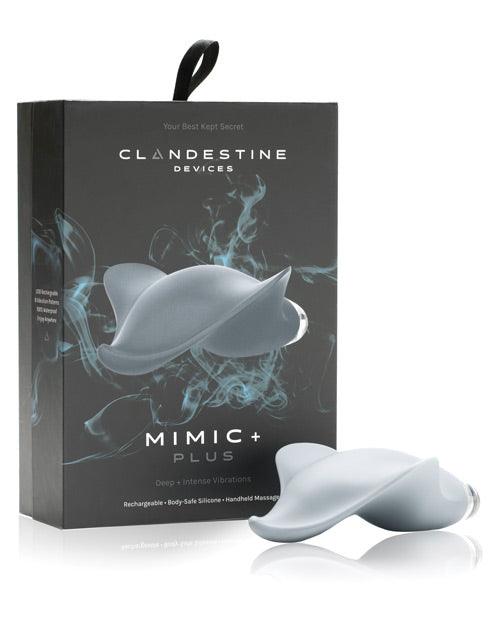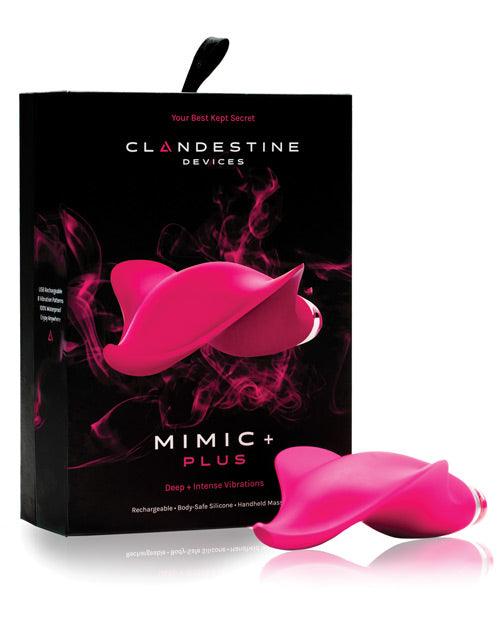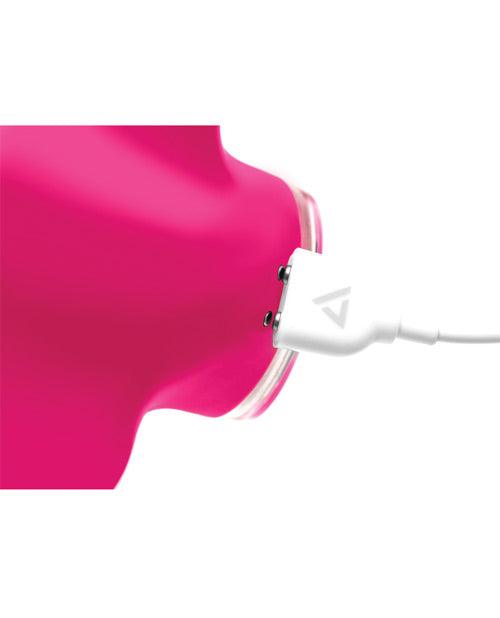 Clandestine Devices Mimic Plus
What Is The Clandestine Devices Mimic Plus Sex Toy?
The Clandestine Devices Mimic Plus is truly a one of a kind sex toy. Designing to literally mimic the tongue of a partner, the Mimic Plus Massager is the real deal when it comes to creating a realistic sensual experience. With the Mimic Plus, the best head of your life is just the click of a button away!
And the handling is just as natural as its form. Shaped to fit softly yet firmly in the palm of your hand, the Mimic Plus Massager takes all the right steps to give users the most mind blowing, authentic orgasm.
Whether you are a woman looking for incredible solo session of oral or a couple looking to incorporate a small, compact, and easy to use toy to transform your routine, the Clandestine Devices Mimic Plus is the ideal purchase.
How Do I Use The Clandestine Devices Mimic Plus Sex Toy?
Despite its innovative and high tech overall look, the Clandestine Devices Mimic Plus is fairly straightforward to use, just follow these simple steps:
Wipe off the toy with proper sex toy cleaning methods before use

At the base of the vibrator, you will find buttons that will take you through a variety of settings that include intensity and mode options – find out which combination best suits your current needs

Apply the Mimic Plus Massager to anywhere on your body – whether it be the clitoris, nipples, inner thighs, or neck – and feel a wave of pleasure come over you

With the vibrator's compact size, we do not recommend fully inserting the toy internally

When you are done playing, be sure to charge the Clandestine Devices Mimic Plus with its accompanied magnetic charging port
To all the new sex toy users out there – do not be stressed out by the vibrator's different and unique! Though it is visually quite different from other vibrators, it functions just the same. Ultimately, the Mimic Plus is a toy for everyone out there!
Incredible Features Of The Clandestine Devices Mimic Plus Sex Toy:
The Clandestine Devices Mimic Plus has a long list of astounding features that are crafted to specifically please each and every Mimic Plus user, including:
Silicone, body safe material allowing for safe internal and external pleasure

Totally waterproof, so you can bring it into the pool, hot tub, or shower!

Lock option for when you travel, ensuring your Mimic will not turn on and go off at a random moment

Eight different vibration modes to select from, making the Mimic totally customizable yet also interesting every time you use it

Six intensities to choose from, allowing users to start softly and increase over time

Like playing with the lights off? No worries, you will not lose your Mimic, as it is powered with an LED dimmer for soft, sensual light
Additionally, the mere shape of the Mimic Plus is worth discussing. Crafted to appear just like a human tongue, the Mimic Plus has two fold extensions that gracefully yet powerfully cup and hold any area you apply the toy to. And in the most realistic fashion yet, the Mimic has a curved tongue tip, allowing for the utmost precision when targeting your sweet spot.
Where Can The Clandestine Devices Mimic Plus Toy Be Used?
The Clandestine Devices Mimic Plus is an incredibly versatile sex toy — tease yourself and your partner with it externally or internally! However, we do advise that the Clandestine Devices Mimic Plus sex toy is not deeply inserted, as it is not quite long in length. Despite this, there are still a variety of different ways you can use your Clandestine Devices Mimic Plus, including:
Warming up your down there region with gentle clitoral stimulation

Massaging your neck and shoulders to soothe sore muscles

Stimulating the anal area for some perineum play

Tantalizing your partner's nipples for some sensual pleasure

Teasing your inner thighs during your bubble bath – because the Clandestine Devices Mimic Plus is submersible!
Ultimately, though shaped like a vaginal, oral sex toy, the Clandestine Devices Mimic Plus has a variety of uses all throughout the body that can spice up partnered play quickly and effectively! So if you are in the market for a sex toy that is more than just single use, go for the Mimic!
I Can't Believe It's Not Oral – Shop The Clandestine Devices Mimic Plus Sex Toy Now At Realvibes.co!
Shop the multi-use, larger than life, and ever luxurious Clandestine Devices Mimic Plus Vibrator today at Realvibes.co!  Because everyone deserves a high quality, full body pleasure experience. With the Mimic Plus Vibrator, you get to have pleasure your way – and no one else's. The Mimic Plus Massager is perfect for the open minded who are looking to customize their own moment.
If you are ready for this unique experience, shop the vibrator today! Or, if you are interested in any other full body vibrators or clitoral stimulators, please take a look at our extensive inventory of sex toys. 
And if you have any questions about our stock, which sex toy is right for you, and so on, please feel free to reach out to our team! Please click here and you will be redirected to our Contact Us page – we are available during business hours via email, phone, and online form. As always, the team at Realvibes is here to help!
Free Standard Shipping (3-7 business days) on all orders above $75.
$5.99 shipping (3-7 business days) for all orders under $75.
$14.99 Express Shipping (2-3 business days) available on all orders. (Free for orders over $200)
Shipping costs to Canada will be calculated at checkout.
Your Privacy is our number one priority - all packages ship discreetly with no mention of the sender.
Returns & Exchanges
At RealVibes.co, we value your business and strive to make your online shopping experience as smooth as possible. We understand that choosing the right products can be a challenge, but rest assured, we're here to assist you every step of the way.
Product Selection Assistance Each product on our website is accompanied by a detailed description to help you make an informed decision. Our dedicated support team is also available to address any questions or concerns you may have. Feel free to reach out to us for personalized assistance.
Returns Policy
Change of Mind: Due to health and hygiene reasons, we cannot offer exchanges or refunds for a change of mind on any adult products. We kindly request that you carefully consider your choices before making a purchase. If you have any doubts or require assistance, please don't hesitate to contact us. Our team is ready to help you select the right product for your needs.
Defective Products: In the unlikely event that a product is defective, please notify us within 30 days of the delivery date of your order. We will promptly replace the defective item to ensure your satisfaction.
Clothing Fit: If any clothing item does not fit as expected, please notify us within 5 days of the delivery date of your order. We'll gladly exchange it for another size at no additional charge, ensuring you find the perfect fit.
Return Conditions
To ensure a smooth return process, please adhere to the following conditions:
All items must be returned with their original packaging, labels, and hygiene seals intact. Please ensure that the product is in its original, unused condition.
Please note that once a package is opened, we are unable to accept returns due to health and safety regulations.
Initiating a Return/Exchange
To initiate a return or exchange, please email our support team at support@realvibes.co and provide the following information:
Order number
Full Name
Email Address
Details of the product(s) you would like to return and the reason for the return
Our team will guide you through the process and ensure a prompt resolution to your request.